Thank you !!
Dear Colleagues
ICCAS-SICE2009 in Fukuoka completed with a great success, and we would like to thank all participants and people who supported the conference.
More than 1,100 papers have been accepted and 1,300+ participants have registered, which lead the conference as one of the most significantly fruitful meetings. We do express our sincere thankfulness for you, and hope that this conference provided you a meaningful time.
Thank you very much.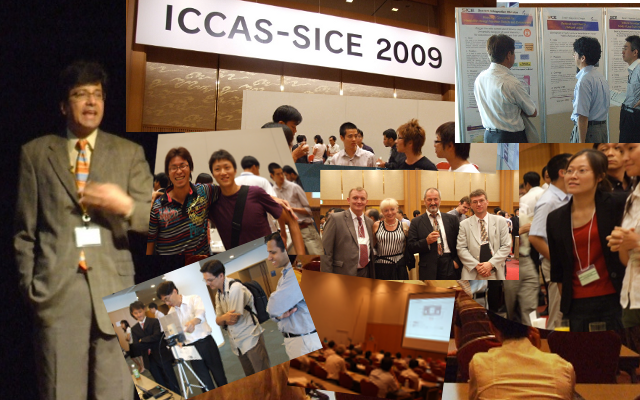 ---
Notice!
Winners of ICCAS 2009 Outstanding Paper Award have been announced. Find the details in this page.
Instructions for presenters and chairs are summarized. Please check the list to prepare your presentation.
Registration desk at the conference site will be located on the first floor of the conference site. Floor map and registration desk information are also released. It is highly recommended to drop in at the registration desk as early as possible.
The committee selected candidates of SICE International Scholarship and finalists of SICE Annual Conference Award.
SICE Week 2009 will be held during the conference period in Fukuoka city. Please check the brochure (English and Japanese).
Final program is now available. The conference is coming soon, and we are looking forward to seeing you.
News from Program Committee
Please click item titles to show details.
July 25, 2009: Advance registration site has been closed.
July 23, 2009: Instructions for presenters and chairs are shown. Please read through the instructions to prepare your presentation.
July 7, 2009: Information about ICROS Award is now open. Please visit the page Awards & Scholarship for further details.
June 29, 2009: A part of program has been released although it is just a tentative information.
June 25, 2009: Time table of Sponsored Industrial Sessions has been updated.
June 19, 2009: Special poster session information is now added.
June 18, 2009: The final submission site was closed.
June 6, 2009: Award information has been updated, and the submission site will keep open till June 12 17.

To authors: please be careful about proper formatting of your final manuscript. We can only accept camera-ready papers which are certified by the IEEE PDF eXpress. Follow instructions on our Final Paper Submission site.

May 20, 2009:

Technical sessions will start on Aug. 18 afternoon!

Thanks to a large number of papers, PC has decided to extend the conference and technical sessions will start on Aug. 18 afternoon. Please be informed that many technical presentations will be scheduled on Aug. 18 afternoon as well, and details will be provided in Advance Program.

May 11, 2009:

Paper submission, registration, technical tour and banquet information are now available.

Please find those information from the left menu bar.

Feb. 11, 2009:

Plenary/Invited talks and Tutorial Information

Details of Plenary talks, Invited talks and Tutorial mini-courses are now available. Please find the links from the left menu bar.

Jan. 15, 2009:

Interactive Session Award

One of the recent trends in technical meetings seems to be a strong emphasis on interactive aspect of the sessions. We also want to give a boost to this tendency in ICCAS-SICE 2009 to make our conference more and more active.

Jan. 1, 2009:

Industrial paper

To encourage the submission from the industries, we have established the industrial paper category. In the reviewing process of this category, the technical usefulness is highly evaluated as well as the technical novelty. The final version can be brief (at least 2 pages) compared to a regular paper.

Presentation style

When submitting a paper, you must select the presentation style (Oral or Interactive). The latter uses the poster but on site demonstration is allowed upon request. Those who want to give on site demonstration should mark the corresponding check box at the submission and describe the details (required space, facilities, power supply and so on) in their extended abstracts. The presentation style of each paper can be changed by the program committee based on the review results.

Dec. 27, 2008:

Student Travel Grant Award (STGA)

This year, we have doubled the budget for further encouragement. STGA is open for all students including Japanese. One can apply for it at the time of online submission. See here for details.
See also all news items.