Instructions for Poster Presentation
- Poster Presentation at a Glance (pdf)
Please find your presentation booth and poster code from the above pdf file.
Poster Presentation Schedule
Date
Time
Session
Thu, Sep 22
2a: 12:45 - 13:35
Th2a Po1~ Po6
2b: 13:45 - 14:35
Th2b Po1~ Po6
Poster Number
A poster number consists of "Date" + "Time Slot" + "Poster ID".
For example, if your poster number is "Th2aPo3.4", it means
- Th: Date of presentation is "Th"ursday, Sept. 22nd, 2016
- 2a: Time Slot is "2a", which means your time slot is 12:45 - 13:35
- Po3.4: 3 means category of your presentation and 4 means Poster ID.
The category ID is as follows:
Th2aPo1: Late Breaking I
Th2aPo2: Control I
Th2aPo3: Measurement I
Th2aPo4: System Integration I
Th2aPo5: Industrial Applications
Th2aPo6: Life Engineering
Th2bPo1: Late Breaking II
Th2bPo2: Control II
Th2bPo3: Measurement II
Th2bPo4: System Integration II
Th2bPo5: System and Information
Guideline of Presentation
Booth Layout and Demonstration
- The dimensions of the booth are presented in the following figure.
- Please find your presentation booth and poster code from the pdf file.
- Your paper should fit within the following dimensions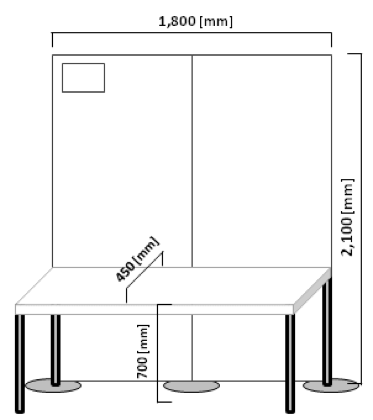 - Push pins or Velcro will be provided to attach your posters to the boards
- Please use any equipment for demonstration such as computers and robots at your own risk.
- Please avoid using any equipment that might cause problems such as noise and hazard.
- A4 Index: Post the index sheet of A4 landscape size on the upper left corner with following information;
* *The presentation number, the category name, the time, and the authors' name (affiliation)
* However, the index sheet is not needed if you print same information at the upper left corner of your poster.
( Index File: Sample Download)
Presentation Time (Poster Presentation at a Glance (pdf))
-The duration of the poster session is 50 minutes. During the time, speakers are requested to make a presentation in front of their own poster.
-Speakers are requested to prepare their posters in the booth before the start of their session. It is possible to prepare the poster 5 minutes prior to the start of poster session.
-Speakers are requested to remove their posters at the end of their session as soon as possible. If a poster remains put up even5 minutes after the end of the session, staff will remove it.